my Ambika
I took the plunge and decided to start building the Mutable Instruments Ambika. This amazingly sounding hybrid 6 voice polyphonic synthesizer is designed by Emilie Gillet and is totally open source.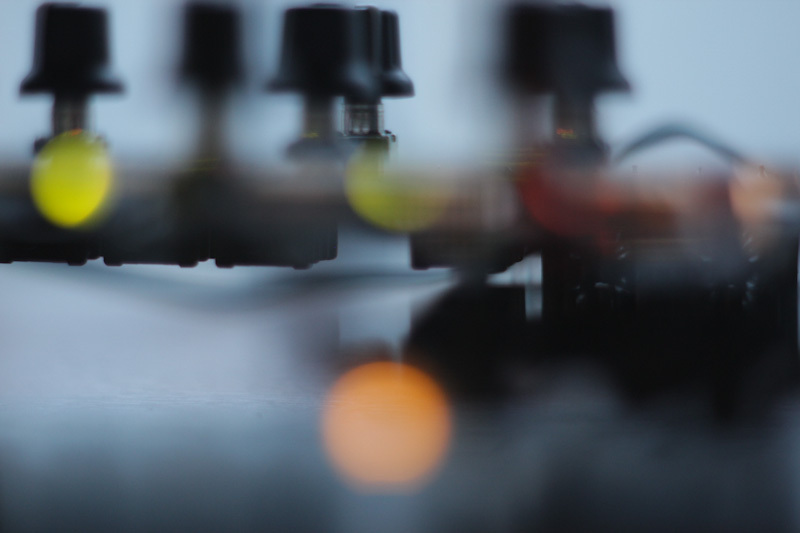 The oscillators, modulation etc .. are all digital, so they can be really complex and give you a huge amount of possibilities. And the part that really gives the sound it's character is analogue; the voltage controller filter and voltage controller amplifier. Giving you in my opinion the best of both worlds.

sound and video
I've never been an analogue purist anyway. I love analogue, but it's not the only method of creating interesting sounds. Remember the Hartmann Neuron ? I believe in combining the best of all technologies or rather; not excluding any based on silly principles, clichés or nostalgia. I own and have owned all sorts of sound sources; analogue, digital, virtual analogue, plug-ins (that can have all sorts of unique ways of creating sounds), acoustic … And it's the combination of all those that creates a huge and varied pallet of interesting sounds.
And it seems one of the most innovative people in the music industry Dave Smith, father of Midi and designer of the Prophet 5 ( first commercial polyphonic, programmable synthesizer) has the same view towards combining analogue and digital. (so who I'm I to doubt the man and the concept 😉 ) He recently released his new Prophet 12, his best synth to date (his own words) which is also a hybrid synth.
But it's actually one of his earlier synths, the Poly Evolver that really got me interested in this type of synthesis. It's very warm and lush, with fast envelopes and a snappy attack. With a lot of modulation possibilities. And within the same synth the possibilities to produce more digital weirdness as well. Though not exactly the same, since the PE also has two analogue oscillators combined with two digital, I feel they are comparable on many levels and both can produce the sounds I really love. The Walforf Q+ is also one of my favourite synths. This one is VA but has analogue filters which just proves to me that in the end, it's the filter that is largely responsible for the character of the instrument.
The only hybrid I don't like is the Prius .. but I won't go into that 😉
So, the main reasons for choosing the Ambika are:
– I was looking for a polyphonic synth that has the warm lush sound of analogue combined with the capabilities and distinct sound of digital. And since there are not a lot of those around on the market today … unless you want to fork out 3000+ euros. The Ambika was ideal ! I just had to listen to the demo's once … and I was sold ! [link]
– I like building stuff. It's very rewarding to create your own devices. Not to mention healthy for the mind 😉 And if you find a brilliant design and platform to build on as I did with Mutable Instruments, it really gets you excited and motivated. And you can also rely on the very friendly and helpful community forum that MI has.
– Open Source ! Isn't it unbelievable that this whole project .. from PCB, to some extent component selection, case design and the software is totally open. I mean, just imagine the potential. Customizing, connecting your own devices, there are communication possibilities like an SPI bus. You can in theory design your own voice-cards if that lies within your set of skills. And then there is the software, it is possible to write your own code or alter some things for your own specific requirements. For a coder like me that is heaven 😉 At the moment I'm just reading through it, trying to understand. But what a great source this is to learn about synthesis !
In this blog I will share with you a brief building process. (well more an image gallery really 🙂 ) So, it's not intended as a tutorial or building guide. Thus I'm not responsible for any damage to yourself or your Ambika from information you used from this blog 😉 This is first and foremost intended as my own building diary. If you do happen do find it useful for your own project that's great.
But you can really find all the information on the Mutable Instruments website itself for building your own MI synth. They did a fine job of providing you with lots of handy building guidelines and help.